Fresh and highest quality fish from New Zealand, Maldives and Sri Lanka!
Every week we will give you pleasure and possibility to enjoy fresh loin of yellowfin tuna of SUPER SASHIMI class from Maldives, Swordfish cut from Sri Lanka and exotic types of fish from the surroundings of New Zealand.
Among world's best restaurants and shops LEE FISH is recognized as the leader and the supplier of the highest quality fresh fish and seafood!
LEE FISH was established in 1956 and since then it focuses on quality and freshness of fish and preservation of sea resources to the future generations.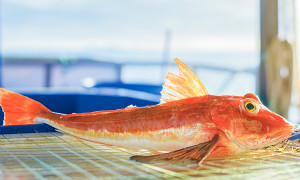 Every fish is caught manually with ropes and hooks and immediately "put to sleep" by Japanese "Iki-Jime" method. It stops formation of lactic acid and therefore helps to preserve natural fish freshness, the highest quality and unique taste. Under "Iki-Jime" method the fish is mildly taken to a lengthened rigor mortis state and freshness time is extended. It means that the fish is supplied to the customer in a precisely fresh state.
Every Wednesday the highest quality fresh fish "from the other part of the world" is delivered to ŠIAURĖS JŪRA shops within 48 hours since the fishing time!
The owners of LEE FISH want to deliver their customers only the highest-quality products.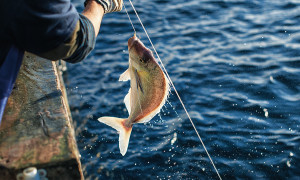 Therefore, they make great demands for transportation companies and invest to operative delivery chain that was very refined during 15 years of close cooperation with the logistics company. All partners of the company are aware of importance to deliver fresh production in a timely manner and impeccable condition.
"Friend of The Sea" is a non-governmental and non-profit certification company whose aim is to protect the sea resources (NGO).
Oceans are the world's bigger supplier of proteins and the most important food source for more than 2.5 billion of people. Oceans consist of 97% of the Earth water and absorb around 30% of the human-produced carbon dioxide.
The only way to use the sea resources further is to respect them and take care of them.

Protection of the sea resources and responsible fishing has always been priorities to LEE FISH. Because of manual fishing with ropes and hooks, as well as fishing of not endangered types of fish only the company was granted an international certified recognition "Friend of The Sea".
The main requirements of "Friend of The Sea":
Not to fish in too depleted fishing zones, as according to FAO, "Regional Fishery Bodies" and "National Marine Authorities".
Do not affect the bottom of the sea.
Selective fishing manner (no more than 8% of production).
Not to fish endangered types of fish, as according to IUCN Red List.
Comply with the legal requirements (TACs, no IUU, no FOC, mesh size, min size, MPA and others).
Increase of efficiency of the energy balance and annual use of fuels.
Responsible waste management.
Social responsibility.
More information: www.leefish.com and www.friendofthesea.org